OPEN FOR FACE-TO-FACE AND ONLINE TUITION!
Book slots at enquiries@clearstepsplus.co.uk or phone 0770 859 8844.
11 Plus Tuition Online At Home Or At Our Centre
We provide 11 plus tuition online at home on Zoom, or in our Manchester centre. Prices are £30 for one hour and only £20 for group sessions.
Summer School
Our latest summer school went tremendously well.  We run a 3 half-day week 11+ entrance exam preparation course every summer.  The purpose of this being to consolidate and review learning completed over the last year and to give a realistic experience of what the exam will be like.  In our final week we also focus on the well-being of your child throughout this process and give them coping strategies to use.
You will also receive a Tutee and parent work book designed to help both you and your child through the final stages of this process.
We also run mock exams throughout the year leading up to the entrance exams.  If you are interested please contact us for more details.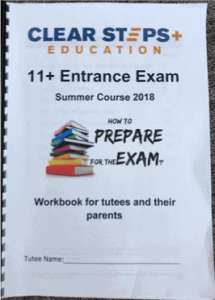 Some Last minute revision Tips
Most gain will come from the following areas:
Verbal reasoning – Continue to develop a wide vocabulary and excellent spelling skills. You will have noticed in the VR work that many questions require a strong vocabulary knowledge. So continue to:
Read for pleasure before going to bed
Read with a dictionary next to you. If you are not sure of the meaning, look the word up in your dictionary.
Maths – Continue to practice:
Times tables
four operations (+, -, /, x)
accuracy in Maths
Numerical Reasoning.
Most mistakes in these tests are made due to lack of accuracy, weakness in times tables and four operations when under pressure. Any further work you can do will help.
English- Read to your parents, grandparents or older brother or sister. Discuss what is happening in the story. Look particularly at adjectives and verbs used and try to find different words with the same meaning.
Non-Verbal Reasoning – practice, practice, practice. However, we wouldn't suggest that doing more than eight papers in a short period of time will help as research shows it will not have much effect in this kind of test.
Exam-taking strategies and tips
Make sure you:
Get enough sleep, eat a healthy breakfast and drink plenty of water
Have all of your equipment ready and arrive early to prevent panic before taking your exam
Go to the toilet before the exam starts
Think positively, relax and focus on going your best
Try to answer all the questions, even if only partially (you could pick up some extra marks).
We are always available to offer free advice and reassurance.